MK Special Correspondent reports from the special operation zone
Sappers of the International Mine Action Center of the Armed Forces of the Russian Federation continue demining the liberated territories of the Luhansk People's Republic. Every day they find dozens of explosive devices left by the Armed Forces of Ukraine and militants. The MK correspondent visited the demining site in the LPR. The sapper with the call sign "Phoenix" told about the danger posed by one of the most "mean" mines with the seemingly innocuous name "petal".
Photo: Lina Korsak
Most of the terrible finds that Russian sappers discover are still Soviet-made, only they were installed using more modern methods. Among them are those that were banned by the Ottawa Convention as inhumane weapons. For example, PFM-1 anti-personnel high-explosive mines are the so-called "petals".
These mines, according to international agreements, were to be disposed of, however, as practice shows, the Ukrainian military did not hesitate to use them in the Donbass as in 2014, they do not disdain to resort to similar methods of mining now.
– This anti-personnel high-explosive mine of pressure action, – the sapper explains. – She has several names in everyday life. She is both a "butterfly" and a "petal". They call it so for its resemblance and small size.
It is made of polyvinyl chloride with a mechanical fuse. By itself, it weighs only 80 grams and contains about 40 grams of explosive in liquid form VS-6D. Such mines are installed with the help of mechanical means of mining, hand-held and helicopter, as well as with the help of multiple launch rocket systems.
In one cartridge from 64 to 72 "petals". The radius of damage when spreading is obtained in the form of an ellipse 4-5 meters wide and about 80 meters long. These mines come in two modifications PFM-1 and PFM-1C with a self-liquidator. They differ in that the usual PFM-1 can stand as long as you like, waiting for its victim, the life of the second is limited to 40 hours from the moment the cassette is thrown out.
– As a rule, such mines are installed on the ground and fire when pressed. Enough weight from five kilograms. That is, both a person and an animal can become a victim of an explosive device. If we still talk about a person, then stepping on it may well lose a foot.
The main danger of these mines is that, due to their small size in the grass, they are practically hidden from human eyes.
Photo: Lina Korsak
– With the help of a mine detector. PFM has a metal fuse, so the device will work on it. But we must understand that such "surprises" do not roll around alone. If we find one, then one hundred percent more will be scattered nearby. And a lot.
– Transfer to the reverse position – from combat to safe – is not provided for in such mines. Therefore, they are destroyed either by overhead charges or by trawling. It turns out a technique that, passing over them, leads to detonation.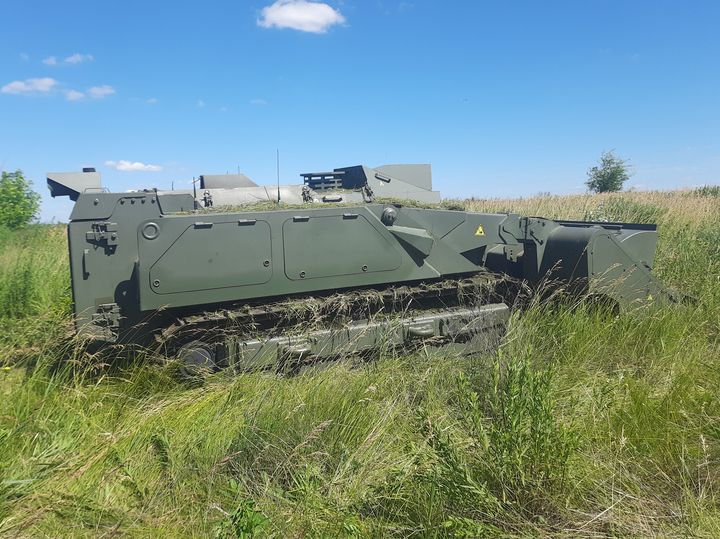 Photo: Lina Korsak
– Ukrainian troops not only use PFM-1, but also camouflage them in every possible way to reduce the possibility of their detection. Cassettes with "petals" are fired in a clean area, for example, in a field, then mines are assembled and manually installed on the desired territory with camouflage elements.
Basically, the Ukrainian army mines areas where active hostilities are taking place with "petals" to incapacitate and demoralize as much manpower as possible. An explosion on such a mine, as a rule, does not kill immediately, but the risk of injury of varying severity is high. Since the PFM-1 is used, as I said, in a heap, there may be not one or two wounded, but dozens. The Armed Forces of Ukraine used these mines in 2014-2015, but later in Kyiv they said that all PFM had already been destroyed, and nothing was left in the warehouses. But, as the situation shows, prohibited methods of mining, in spite of everything, continue to be used by representatives of the Ukrainian armed formations.
Lugansk, LPR.