Until that moment, the G7 countries should continue the sanctions pressure on Russia, the chancellor said at the G7 summit. Scholz has previously stressed that Germany will not accept peace imposed on Ukraine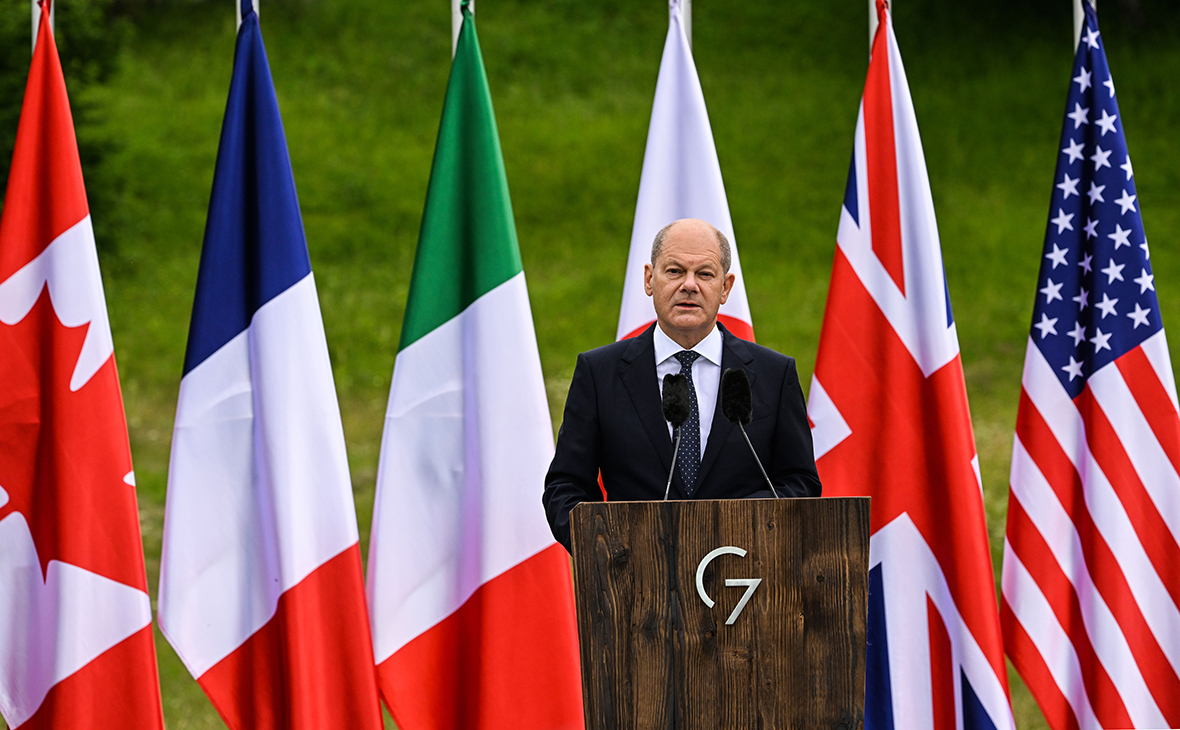 Olaf Scholz
Sanctions against Russia will remain in place until it concludes a "just peace" with Russia, said German Chancellor Olaf Scholz, reports Merkur at the G7 summit.
To prevent the terms of the peace agreement from being imposed on Kyiv, the G7 should continue the sanctions pressure on Moscow, Scholz believes.
In May, the chancellor stressed that Berlin would not accept "peace imposed on Ukraine." He promised to continue to help Kyiv, but urged to prevent a military clash between Russia and NATO.
The military operation in Ukraine began at the end of February. Almost immediately after the outbreak of hostilities, the parties to the conflict began to discuss the terms of a possible peace. The Russian delegation received from the Ukrainian proposals for a settlement in writing after a meeting in Istanbul at the end of March, and after almost a month they handed over their proposals to Kyiv, but did not receive a response. In April, the Kremlin announced its desire to complete the special operation in Ukraine through negotiations. However, the dialogue was soon frozen at the initiative of Kyiv: they explained that the background of the negotiations was influenced by the events in Bucha.
Russian presidential spokesman Dmitry Peskov said on June 23 that Moscow would be ready for peace if Ukraine met all Russian demands. Foreign Minister Sergei Lavrov noted at the end of April that the parameters of the agreement between the two countries will be determined by "the stage of hostilities at which this agreement will become a reality."
At the end of May, President of Ukraine Volodymyr Zelensky called the return of territories lost during the hostilities a condition for negotiations. The Russian Foreign Ministry criticized this position, doubting the sincerity of Kyiv to find a peaceful solution to the conflict. The head of the Ukrainian delegation, David Arakhamia, said in early June that in order to resume the dialogue, Ukraine's negotiating position needs to be strengthened, including by supplying weapons from abroad. Later, he admitted that Kyiv's negotiating position could be strengthened by the counter-offensive of the Armed Forces of Ukraine planned for the end of August.
Read on RBC Pro Pro I'll help you move: how companies are now motivating IT professionals Tax disputes: what to pay attention to right now Case studies Pro Sleeping 8 hours a day and being lazy: Jeff Bezos' healthy habits Pro "I'm happy that I was fired": what it's like to work at Tesla — in 5 points Articles Pro How companies won court cases with employees thanks to KEDO: three cases >
politician, chancellor of Germany
June 14, 1958
Subscribe to RuTube RBC Live broadcasts, videos and recordings of programs on our RuTube channel