The main task is to prevent the arrival of reserves of the Armed Forces of Ukraine
The leadership of the Ukrainian Railways reported that five railway stations were hit by rocket attacks last night. According to military experts, in this way the Russian army is trying to prevent the delivery of Western military aid to the east, where the Donbas grouping of the Armed Forces of Ukraine (AFU) is concentrated.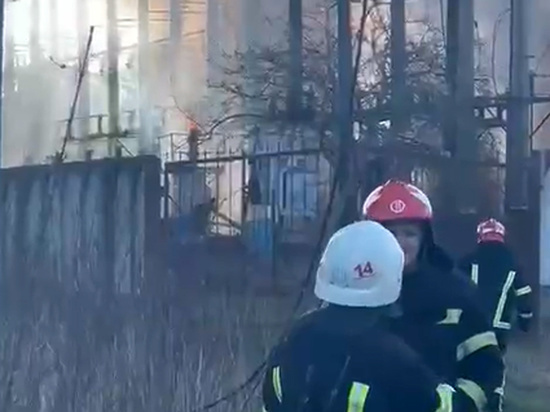 Photo: A frame from the video
According to the evidence from the field, the strikes were made on the stations, a number of stages were de-energized. In social networks, they note that, in particular, the Krasnoe traction substation in the Lviv region, as well as Fastov, Kazatin-2 and Podolskaya-tupikovaya were damaged.
All these railway junctions were used to deliver Western heavy weapons, which are delivered by aircraft to Poland, to the Rzeszow military airfield, and then sent by train to Ukraine.
Thus, the Donbass grouping of the Armed Forces of Ukraine, which lacks ammunition, receives replenishment , which helps it resist the advance of Russian troops, as well as groups of the DPR and LPR.
The need for strikes against the Ukrainian transport infrastructure has long been discussed. Here, for example, is what Igor Korotchenko, editor-in-chief of the National Defense magazine, noted in his Telegram channel: "The third month of the special military operation has begun. I have only one question: when will missile strikes be carried out on the decision-making centers in Kyiv, as well as on the Ukrainian railway and road bridges through which the Armed Forces of Ukraine receive Western weapons?"
Why were there no strikes on stations and bridges before? Some believe that the Russian command did not include these objects in the list of priority targets because the same bridges could be needed to advance our troops. On the other hand, it is clear that the Armed Forces of Ukraine themselves, in the event of a retreat, will destroy these same bridges. That is how they acted in the Kyiv and Zhytomyr regions.
One way or another, the task of destroying the routes for the supply of weapons and ammunition to the Donbass grouping of the Armed Forces of Ukraine comes to the fore. Any undestroyed echelon with military equipment is a slowdown in the special operation and additional losses of our troops.
Assessing the first strikes on the railway infrastructure, Ukrainian opposition politician Oleg Tsarev wrote in his Telegram channel: "The Russian army has finally moved on to airstrikes and missile strikes on large railway junctions of Ukraine in order to cut off the supply of the Ukrainian group in the Donbass… I am glad that the process has begun, but please do not forget the facilities located closer to the western border… The blockade is effective only when she is complete. And then, you see, they parted here.