Beijing will have to react to avoid losing face
U.S. House Speaker Nancy Pelosi is expected to arrive in Taiwan on Tuesday in a controversial visit that could heighten tensions between Beijing and Washington. Against this backdrop, military rhetoric is intensifying on both sides of the Taiwan Strait.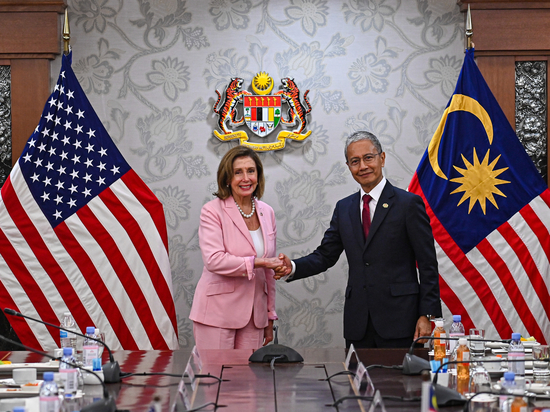 Taiwan's Ministry of Defense has warned that it will respond to "enemy threats" as China escalates military threats on the day of US Speaker Nancy Pelosi's highly controversial visit to Taipei, writes The Guardian.
In a statement Tuesday, Taiwan's defense ministry said it was fully aware of military activities near the island and had "determination, ability and confidence" to ensure Taiwan's national security. The agency added in a statement that it has developed various – which, it is not specified – emergency plans.
Meanwhile, Taiwan's premier confirmed that the country is "warmly welcoming" foreign visitors ahead of a potential visit by Pelosi. Taipei will "take the most appropriate measures" for such guests and respect their plans, Prime Minister Su Tseng-chang told reporters on Tuesday when asked about the US House Speaker's visit.
The statements came after Reuters reported that several Chinese warships and aircraft passed near the median line, the unofficial border between the mainland and the island in the Taiwan Strait. Citing unnamed sources, the report said the ships had been in the area since Monday and the last flights took place on Tuesday morning, prompting the Taiwan Air Force to take off its planes in response.
It was previously reported that the ministry The Taiwan Defense Forces have adjusted and strengthened the combat readiness of the armed forces in response to the threat from China. According to public broadcaster CNA, formally the readiness level has not changed, it concerns only two stages: the current regular stage and wartime.
China also announced several days of live-fire exercises in the region, although they may be related to events marking the founding anniversary of the People's Liberation Army (PLA) on Monday.
The PLA also posted a propaganda video that does not mention Taiwan but shows a live-fire exercise and says the army will "bury the approaching enemy."
On Tuesday, several Chinese officials issued further warnings. Ambassador to the United States Qin Gang shared a video of the PLA, saying that the military "will not sit idly by when it comes to protecting national sovereignty and territorial integrity."
Former Chinese Ambassador to the UK Liu Xiaoming echoed others in many ways government statements about Pelosi's trip. "Her visit to Taiwan would be a gross interference in China's internal affairs, a serious undermining of China's sovereignty and territorial integrity, a senseless violation of the principle of one China," the diplomat said.
Overnight, Chinese authorities announced a sudden import ban on more than 100 Taiwanese food companies, local media reported, in what was interpreted as an act of retaliation for Pelosi's expected visit – China's trading tools have already been used frequently in bilateral disputes.
Multiple media reports have suggested that Pelosi will land in Taipei on Tuesday evening and meet with the President of Taiwan on Wednesday as an unofficial visit to the island during her tour of Asia. Nancy Pelosi, a longtime anti-China hawk, will become the highest-ranking member of the US government to visit Taiwan in decades, and Beijing has repeatedly threatened to take "countermeasures" in response.
Nancy Pelosi refused to confirm her trip to Taiwan – visit was rescheduled after plans for April were put on hold when she contracted Covid-19 — but the lack of rebuttal and multiple media leaks sparked an angry response from China and fears the situation could escalate.
While Taiwan has never been ruled by the Chinese Communist Party (CCP), Beijing claims it is a Chinese province that it intends to "reunify" by force if necessary. The CCP strongly objects to foreign demonstrations of support for what it calls Taiwan's "separatist" government, especially from the United States.
Sources in Taiwan told the Guardian that there is a general concern that if Pelosi does not come, this will mean that the US can be intimidated with verbal threats, and this will undermine Taiwan's trust in US support.
Kolas Yotaka on Tuesday , a former Taiwanese presidential spokeswoman, said she supported Pelosi's visit to Taipei. "No one has the right to say whether Speaker Pelosi should come to Taiwan or not," she said. "Only she can decide, and she shouldn't feel threatened. I am looking forward to her visit. It makes us feel less isolated and believe that there are still people who hold on to their beliefs and ideals."
China's response to reports of Pelosi's visits has intensified, albeit without specifics. In a lengthy phone call last week, Chinese President Xi Jinping warned US President Joe Biden against "playing with fire" over Taiwan, while officials repeatedly said the PLA would not "do nothing" during the visit. Analysts in Taiwan and abroad have expressed concern that Beijing's rhetoric has reached a level that will force it to take action in order not to lose face.