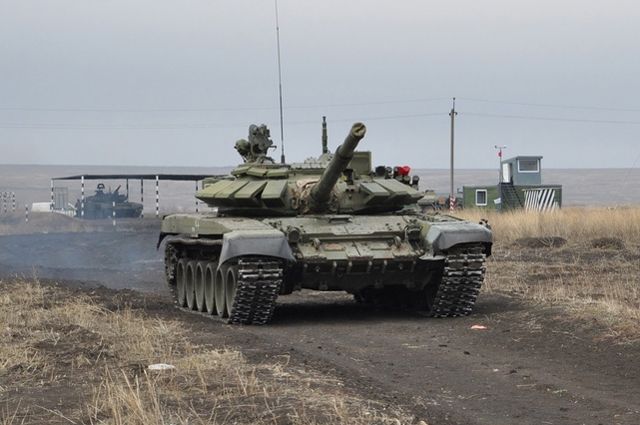 For each type of weapon, the timing of their use is very different. In addition to the parameters set by the manufacturer, the write-off of military equipment is also affected by the operating and storage conditions. When used in special conditions, such as climate zones with low or extremely high temperatures or high humidity, the service life can be significantly reduced.
Tanks
One of the long-lived military equipment are tanks, for example, it was reported that the life cycle of the T-72 is 46 years, while the military department proposes to extend its service life to 70 years. And this is understandable, now more than 7 thousand of these tanks are in storage, and the military department does not want to cut them into metal. Also for a long time are in combat formations and various armored personnel carriers. For example, the wheeled armored personnel carrier BTR-82, adopted by the Russian army in 2013, is actually an upgrade of the BTR-70, which was adopted by the Soviet army in 1976.
Aviation
Each military aircraft has a certain resource, it is set by the design bureau and the manufacturer with a large margin on the basis of scientific research and testing. Interestingly, different aircraft systems can have different service life. If some kind of aircraft is needed in the troops, then it can extend its service life up to 50 years. To do this, routine maintenance is carried out, with the help of which the service life of a particular unit or unit is extended. A typical example — the main attack aircraft of the Soviet and Russian army — Su-25, which entered the army in the early eighties and is still actively involved in various military conflicts. An aviation long-liver and Mi-24 helicopter, it first appeared in service more than half a century ago and is still actively used by the Russian Aerospace Forces.
Rockets
Strategic missile systems have an average service life of 10 years, but their extension after routine maintenance is a common practice, so the most powerful Russian missile RS-20 "Voevoda" remains in combat positions for almost thirty years.
Anti-aircraft missile systems are said to last 20 years or 22,000 hours. The S-400 "Triumph" fits into these standards, while its missiles must serve for more than 15 years. Until now, the S-300, which was put into service in 1978, is in combat positions.
Cars and weapons
The average service life of automotive equipment — 12–15 years, but the vehicles can be decommissioned earlier due to harsh operating conditions.
Small arms and optical instruments — they are allowed to be written off only after 40 years.
Fleet
The absolute record holder for longevity in the Russian army is the Kommuna rescue ship of the Black Sea Fleet, which was commissioned back in 1915 under the name " ;Volkhov». A catamaran-type ship with a displacement of 3100 tons and a length of 96 meters was built in 1912-1915 by the St. Petersburg Putilov shipyard, during the First World War it served in the Baltic Fleet and was used not for its intended purpose, but as a supply base for submarines. It turns out, "Commune" managed to serve in three states — Russian Empire, USSR and Russia. Currently, the ship is part of the Black Sea Fleet.
Rate the material