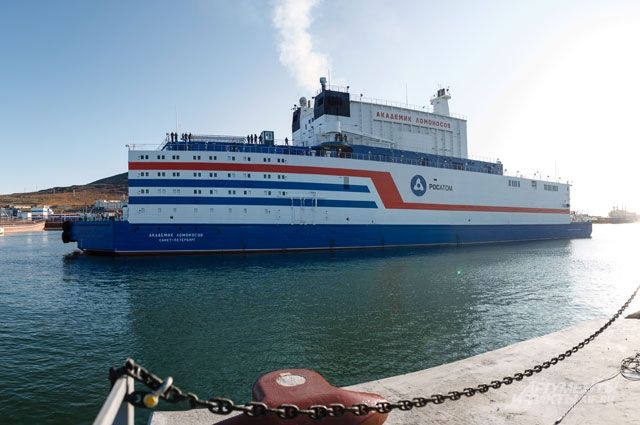 On August 20, the Soviet nuclear project turned 77 years old. It was created as a response to US plans to destroy the USSR with nuclear warheads. But as soon as we had our own bombs, which became a reliable shield, their creators immediately began to work on projects of the "peaceful atom". And they created an industry that still sets the tone for our technological development.
Peaceful people
Having dropped two of its first three bombs on Japanese cities, the United States already from the second half of 1945 gave birth to one war plan after another. The most famous — "Dropshot" (short stroke in tennis). According to it, 300 nuclear bombs and 250 thousand tons of ordinary ones were going to be dropped on the cities of the Soviet Union. The appearance in our country in 1949 of the atomic bomb, and then the test in 1953 of the world's first thermonuclear and in 1955 — superbombs (cascading thermonuclear charge) stopped the former ally. Since then, we call our nuclear potential a shield, it still protects our country and keeps the world from a global war.
"The main task that we had to solve with our work, — force the United States to renounce the use of nuclear weapons. We have achieved it. We were able in a short time in a destroyed country to create our own similar weapon, which forced the Americans to abandon their plans to commit such a rash act, — told «AiF» a few years ago, the last of the participants in the atomic project Arkady Brish.
But even before the completion of the military project, at the suggestion of its supervisor academician Igor Kurchatov, research began and developments on the use of atomic energy for peaceful purposes. The world's first pilot nuclear power plant in Obninsk started operating in June 1954
New stations — new reactors
Almost 15 years ago, on December 1, 2007, the state corporation "Rosatom" was established by presidential decree, which inherited the country's nuclear industry. Now in our country there are 37 power units at 11 nuclear power plants, and 20% of the energy produced is generated by nuclear generation. The Russian state corporation has the world's largest portfolio of orders for the construction of nuclear power plants. Today, 35 power units in 12 countries are at various stages of implementation. Three new units are being built in Russia.
New blocks — new reactors. At the Beloyarsk nuclear power plant in the Sverdlovsk region. 2 fast neutron reactors operate: BN-600 and BN-800. A third one will appear later: BN-1200. Figures — these are the megawatts of energy that the reactor is capable of delivering, the letters mean: fast sodium. But our witty atomic scientists always decipher abbreviations in their own way. This one is like this: great hope.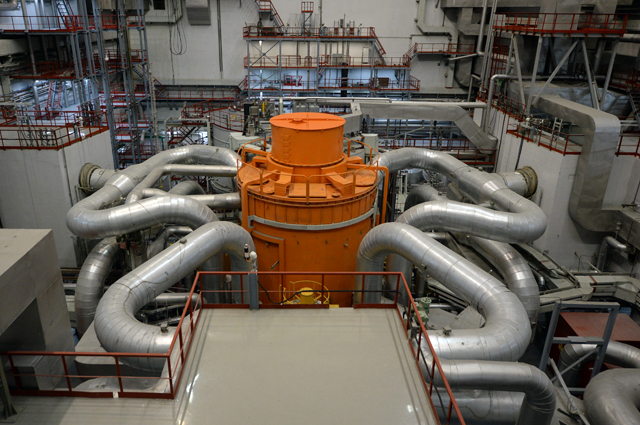 The BN-800 reactor resembles a huge octopus with an orange body and silver tentacles. Photo: RIA Novosti/Pavel Lisitsyn
The hope lies in the possibility of closing the fuel cycle. In "Rosatom" the strategy of two-component nuclear energy was adopted. This means that nuclear power plants with two types of reactors will operate in a single system: thermal and fast neutrons. In the latter, uranium-238 — is involved in the fuel cycle. item that used to go to waste. That is, two-component allows you to take the spent nuclear fuel of thermal reactors, extract depleted uranium from it and produce "firewood" for fast reactors, thus closing the nuclear fuel cycle.
But that's not all. The advent of BN reactors created the conditions for closing the nuclear fuel cycle within one reactor, which is now being done at the Siberian Chemical Combine in Seversk (Tomsk Region). A lead-cooled fast neutron reactor BREST-300, which has no analogues in the world, is being built there. The atomic scientists gave a telling name to this project: Breakthrough.
Low power demand
On the other hand, many parts of the world need small power sources. And the Russian state corporation is launching stations with low-power reactors — up to 300 MW. One of them, "Akademik Lomonosov", — floating, moored in Pevek in Chukotka.
Its modernized version will meet the needs of the Baimsky GOK, which develops one of the world's largest gold-copper deposits — also in Chukotka. And the first small ground-based nuclear power plant will be built in Yakutia to develop the Kyuchus gold deposit.
The reactors that will equip low-power nuclear power plants have already been created. This is a series of RITM-200 — they work on the latest Arktika icebreakers; and "Siberia". Nuclear icebreaker fleet — one more direction of using the energy of the atom for peaceful purposes. Now Russia has 6 operational icebreakers and construction is underway 3.
New Project 22220 nuclear-powered ships (operating Arktika and Sibir, Ural, Yakutia and Yakutia under construction) Chukotka») — universal, they can guide ships both on deep Arctic routes and in shallow areas, as well as in the mouths of polar rivers.
By the way, in the composition of "Atomflot" includes the world's only nuclear-powered lighter carrier Sevmorput. It can carry cargo and containers and is able to operate in ice.
With the largest icebreaking fleet in the world, Rosatom is now responsible for the development of the entire infrastructure of the Northern Sea Route.
Radiation Pill
Nuclear medicine makes it possible to detect early and treat oncological, cardiological, endocrinological and other diseases very effectively, including in situations where other methods (surgical, pharmacological ) are already powerless.
Radiation can absolutely safely sterilize food, medical devices and medicines, treat insect carriers of dangerous infections, protect agricultural products, reveal hidden defects in products and structures without destroying them, improve the properties of materials, determine the age of archaeological finds, etc. At the same time, objects after exposure to ionizing radiation do not contain residual radiation, and therefore remain safe for humans and the environment. And all this — also "peaceful atom".
"Printed" turbine
Nuclear industry — it is the driving force behind the development of the country's economy. It uses not only nuclear technologies, but also many others.
«In addition to an environmentally friendly and reliable source of energy, the "peaceful atom" contributes to the development of science, industry, education, medicine, agriculture", — says the CEO of the state corporation Alexey Likhachev.
Everyone has heard about the composite wing of the future Russian medium-range airliner MS-21. And where did they develop and produce composite materials for it? At the Kazan enterprise of the composite division of the nuclear state corporation Umatex. It is one of the world's top ten wide-range carbon fiber manufacturers.
We talked in detail about a single-laser 3D printer created by nuclear scientists several years ago. And recently they put into operation a two-laser machine — it is 60% more productive than the "big brother"; and is able to separate two types of powders. Employees of the state corporation are already "printing" equipment for nuclear power plants, as well as experimental parts for aircraft and engine building. "Printed" even a small gas turbine plant. They are going to make implants for medical purposes: jaws, eye sockets, etc.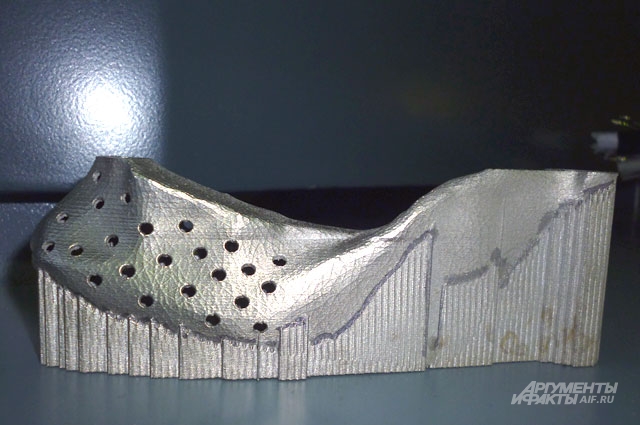 Implant for medical purposes. Photo: AiF/Marina Nabatnikova
Large Russian data centers (data processing centers), which are necessary, among other things, so that personal information about each of us does not leak to unfriendly countries, are being created near nuclear power plants — there are quite large territories and energy — here she is, nearby, and they "eat" there is a lot of it.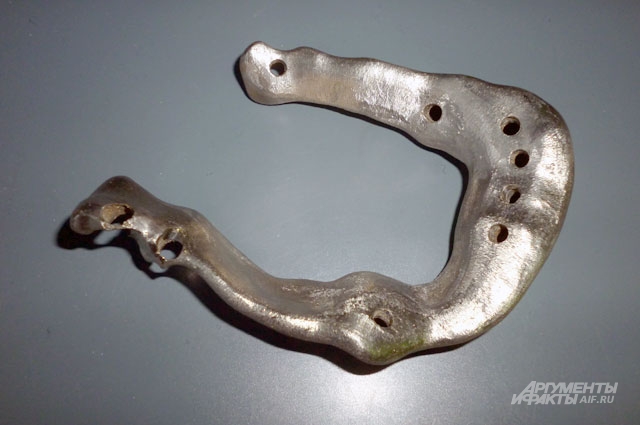 Implant for medical purposes. Photo: AiF/Marina Nabatnikova
In two nuclear centers — in Snezhinsk and Sarov — own powerful supercomputers. The institutes of the state corporation produce serial supercomputers with a capacity of up to 100 teraflops for industrial enterprises, transport companies, and educational organizations. And by 2024 according to the plans the quantum computer of "Rosatom" will appear.
Rate the material