An expert suggested intensifying the fight against saboteurs
In social networks, they continue to discuss the attack on the Russian Novoshakhtinsk oil refinery in the Rostov region. Despite the fact that there were no casualties and great destruction, the very fact of the arrival of Ukrainian drones on Russian territory is an alarming phenomenon.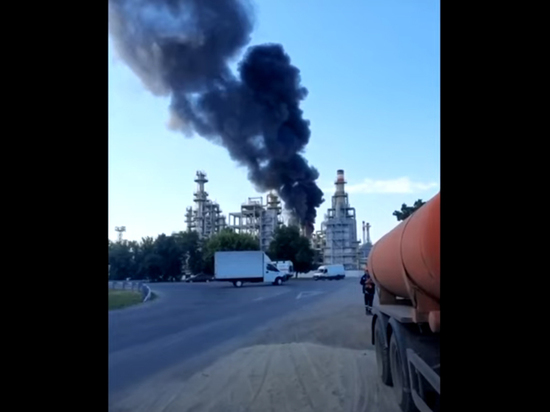 Photo: Frame from video
According to military expert Mikhail Khodarenko, the strikes of the armed forces of Ukraine (AFU) on Russian territory are more like PR campaigns. "These pinpricks are really only painful in terms of public perception," he wrote on Telegram. The purpose of such sorties is to show that "Ukraine is capable of snapping back."
According to the expert, the type of drones used to strike the refinery has not yet been precisely established. He suggested that this is either a small Ukrainian device PD-1, or a modified Chinese Skyeye 4450 drone, which is on sale. Both could have been filled with explosives and used at the refinery, the expert points out.
At the same time, according to him, both drones are small and have a limited range, which means that they could hardly have been launched from the territory controlled by the Armed Forces of Ukraine.
"Most likely, (the device) was used from the DPR or LPR, in a short distance from the refinery, by a Ukrainian sabotage and reconnaissance group," Khodarenok believes. He also did not rule out that the saboteurs could have launched the drone from the territory of Russia.
Based on this, the military expert proposed protective measures. Firstly, "to provide all key objects of interest for the Armed Forces of Ukraine in the border areas of the Russian Federation with drone protection systems." For this, the Pantsir anti-aircraft missile and gun systems, as well as electronic warfare stations and anti-aircraft artillery, are suitable. According to him, this "will reduce the likelihood of recurrence of incidents to a minimum."
In addition, he believes, it is necessary to step up efforts to combat enemy sabotage and reconnaissance groups. "Underestimation of the enemy must be completely excluded. We are confronted by the Mi-6 (British intelligence – "MK") and the CIA (USA), and not just Ukrainian services," the expert concluded.