For draft evasion – imprisonment up to 5 years
"The scale of insanity is growing every day … This is a madhouse," she sent such an angry letter about the actions of the Ukrainian authorities to " MK" reader. A woman can be understood – her 32-year-old sister, who lives in Ukraine, recently received a summons demanding … to appear at the military registration and enlistment office. "Personnel shortage" in the Ukrainian army, it seems, is forcing the authorities to take desperate measures to make up for the loss of personnel of the Armed Forces of Ukraine.
Photo : unsplash.com
The situation in the Ukrainian army seems to leave much to be desired. Recently, a draft law was submitted to the Verkhovna Rada, allowing to call for the service of disabled people (albeit with their consent). Then the president's team came up with another "brilliant" idea: to declare an amnesty and give machine guns to persons under investigation, including under serious and especially serious articles.
And more recently, a plan has begun to be implemented to recruit women from 18 to 60 years old from the Dnepropetrovsk, Kyiv, Kirovograd, Nikolaev, Odessa, Kharkov, Donetsk and Zaporozhye regions into the Ukrainian army. True, women of military age are only being looked at so far – they are put on record and find out how they can be used for the good of the country.
Nevertheless, panic has already begun in some Ukrainian families visited by military registration and enlistment office workers. Here is what our reader from Ukraine writes:
"Hello. My name is Evgeniya. My sister and her husband live in the Nikolaev region in Ukraine. The scale of madness is growing every day. In the morning, my sister sends me a photo of the summons, they want her to appear at the draft board tomorrow. Picked up right on the doorstep. As I understand it, women are now being forced to go to war?! Sometimes they send summonses to children, now to women, and then, apparently, old people will be caught and handed out summonses."
A 32-year-old resident of Ukraine had to accept the summons and report to the military registration and enlistment office. Otherwise, the potential "recruit" faces a fine of 1,700 to 3,400 hryvnia (3,000 to 6,000 rubles). And for draft evasion, you face criminal liability and imprisonment for up to 5 years.
But the brother-in-law of our reader, oddly enough, this time "swept through." "But the funniest and saddest thing in this situation is that the brother-in-law was not handed anything. And thank God, of course. But this is crazy. Here's what to do with it? Is it even legal to do this?" – written by Evgeniya.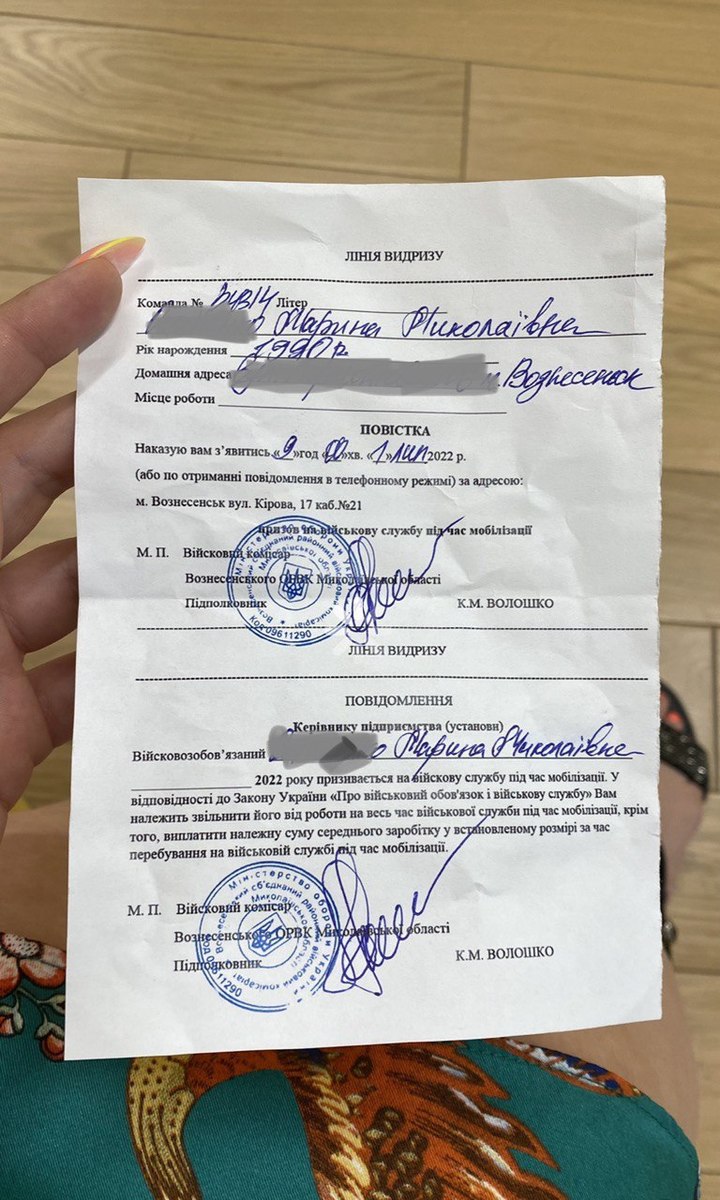 The decree on the mobilization of women was adopted by the General Staff of the Armed Forces of Ukraine on June 7. As noted in the document, by June 15, the country will begin mobilizing women who are already liable for military service.
In addition, the decree reported that until June 31, military registration of all women from 18 up to 60 years old.
Now there are 37 thousand Ukrainian women in the ranks of the Armed Forces of Ukraine. Mostly women serve as doctors, signalmen and cooks. But more than a thousand women hold commanding positions. According to some reports, the losses of the Armed Forces of Ukraine since February 24 amounted to 50 thousand dead and about 150 thousand wounded.